Hardwood floor sanding is an art form that can breathe new life into old and worn-out floors. It requires precision, technical mastery, and a deep understanding of the restoration process.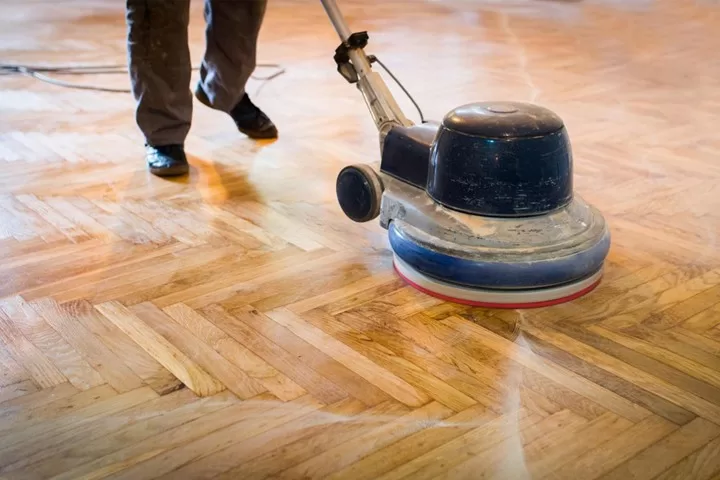 In this blog, we will explore the transformative nature of hardwood floor sanding and highlight the expertise of Soomission, a leading company specializing in wood floor services, particularly hardwood floor sanding.
The Power of Sanding: Transforming Old Floors
A. Explanation of the Sanding Process
Hardwood floor sanding involves the removal of the top layer of wood to replace it with a fresh finishing layer. This process addresses spots, stains, and blemishes and ensures a more uniform and aesthetically pleasing appearance. Professionals can reveal the beauty beneath years of wear and tear by carefully sanding the floor.
Sanding begins with the selection of the appropriate sandpaper grit. Coarse-grit sandpaper, such as 20 to 40 grit, removes the existing finish, while progressively finer grits, such as 60 to 120 grit, achieve a smoother surface.
The sanding process can be done manually or with the help of a floor sander. Professionals often use various tools, including drums, edgers, and detail sanders, to ensure thorough sanding in different areas.
B. Preservation of Original Wood Aesthetics and Enhancement of Durability
One of the remarkable aspects of hardwood floor sanding is its ability to preserve the original characteristics and charm of the wood. By removing the damaged and worn-out layers, the natural grain patterns and color variations are once again brought to the forefront.
The process of sanding not only enhances the visual appeal but also strengthens the wood, making it more durable and resilient to daily foot traffic.
As the top layer of the wood is removed during the sanding process, any imperfections, scratches, or stains are effectively eradicated. This allows the underlying wood to shine through, showcasing its inherent beauty. Moreover, sanding levels the surface, eliminating minor height variations and creating a smooth and even floor.
---
Read Also:
---
C. Emphasizing the Importance of Trained Professionals or Proper DIY Steps
While it is possible to embark on a DIY hardwood floor sanding project, it is essential to acknowledge the complexity of the task and the potential risks involved. To achieve optimal results, sanding a hardwood floor requires skill, knowledge, and experience.
Trained professionals possess the expertise, experience, and specialized equipment necessary to navigate the intricacies of hardwood floor sanding.
They are well-versed in the different sanding techniques, ensuring the right amount of pressure, speed, and sandpaper grit is applied for each stage of the process. Moreover, professionals can handle challenges such as uneven floors, intricate designs, and hard-to-reach areas.
If you insist on tackling the process on your own, do your homework and stick to the rules to guarantee a positive end. This includes understanding the equipment needed, practicing proper sanding techniques, and taking safety precautions.
It is also essential to be aware of the limitations and potential risks associated with DIY sanding, as mistakes can lead to irreversible damage to the floor.
Professional Hardwood Floor Sanding: Quality and Longevity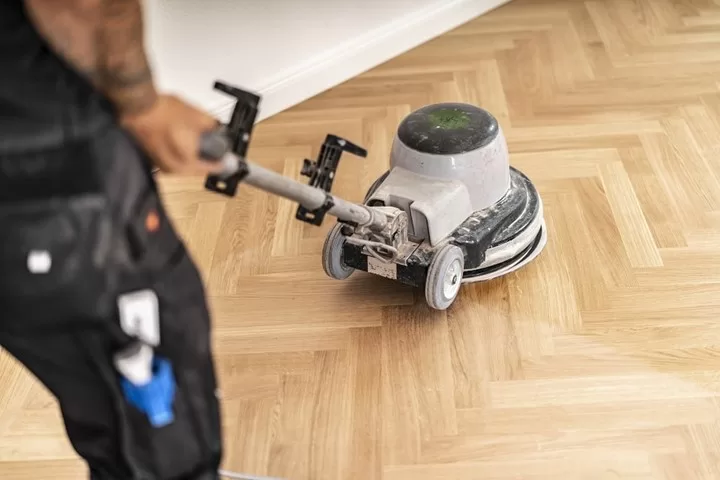 A. Advantages of Professional Sanding
Opting for professional hardwood floor sanding offers numerous advantages beyond aesthetic improvement. The expertise and experience of professionals contribute to superior craftsmanship, ensuring a high-quality result that exceeds expectations. Here are some key benefits of professional sanding:
Improved Scratch Resistance: Through professional sanding, the surface of the hardwood floor is refined and prepared to receive a fresh finishing layer. This layer acts as a protective barrier, enhancing scratch resistance and minimizing the visible impact of daily wear and tear.
Enhanced Sealing: Professional sanding allows for a more thorough and even application of sealants and finishes. This ensures better wood sealing, preventing moisture penetration and reducing the risk of warping or cupping.
Greater Chemical Resistance: Applying professional-grade sealants and finishes provides enhanced chemical resistance. This helps protect the wood from damage caused by household cleaning products, spills, or other chemical agents.
B. Essential Steps Involved in Professional Sanding
Achieving exceptional results through professional sanding requires a comprehensive approach. A beautiful, long-lasting hardwood floor is the result of a multi-step process that is essential to its completion.
Cleaning: Before beginning the sanding process, it is crucial to thoroughly clean the floor to remove any debris, dirt, or other contaminants. This ensures a clean and even surface for effective sanding.
Sanding: Once the floor is clean, professionals use specialized sanding equipment to remove the top layer of wood and achieve a smooth, uniform surface. The sanding process begins with using coarse-grit sandpaper to remove the existing finish and gradually progresses to finer-grit sandpaper for a refined finish.
Drying: After sanding, the floor must be adequately dried before applying sealants or finishes. This allows for optimal adhesion and prevents moisture-related issues in the future.
Waxing: Applying a wax layer is an optional step that can provide additional protection and enhance the natural beauty of the wood. Waxing adds a subtle sheen to the floor while providing a protective barrier against moisture and minor scratches.
Buffing: The final step in the professional sanding process is buffing, which involves using a buffer machine to smooth the surface further. Buffing enhances the shine and luster of the floor, giving it a polished and professional finish.
C. The Importance of Correct Tools, Training, and Consulting Qualified Professionals
The success of a professional hardwood floor sanding project heavily relies on the use of appropriate tools, equipment, and techniques. Professionals are equipped with industry-standard mechanisms such as drum sanders, edgers, and detail sanders designed for efficient and effective sanding.
Training and experience are equally important aspects of professional hardwood floor sanding. Professionals undergo extensive training to understand the intricacies of different wood species, sanding techniques, and finishing products.
This knowledge enables them to assess the condition of the floor, determine the optimal sanding approach, and make informed decisions throughout the process.
Consulting qualified professionals like Soomission ensures a successful hardwood floor sanding project. Reputable companies employ skilled technicians with the knowledge and skills to handle the sanding process precisely.
They deeply understand different wood types and their specific requirements, allowing them to tailor their approach to each unique flooring situation.
Hardwood Floor Maintenance and Renovation: Sandblasting Insights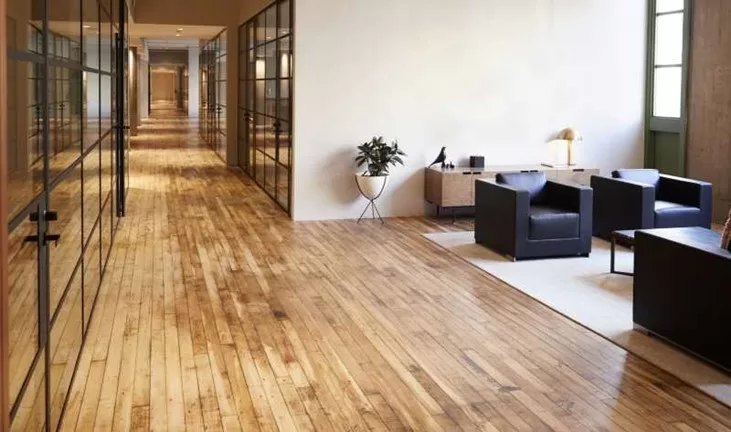 A. Overview of the Sandblasting Process for Hardwood Floor Renovation
Sandblasting is an effective method for renovating hardwood floors by removing layers of surface coating, varnish, and stains. This process allows the original appearance and color of the wood to be fully restored.
Sandblasting is particularly beneficial when dealing with deep-seated stains, stubborn residues, or multiple layers of varnish that traditional sanding may struggle to eliminate.
Sandblasting involves using specialized equipment that propels fine abrasive particles at high speeds to rub the wood's surface gently. This technique effectively strips away the unwanted layers, revealing the natural beauty of the wood beneath.
B. Step-by-Step Guide for Sandblasting
Cleaning and Removing Dirt and Impurities:
As with any hardwood floor renovation project, thorough cleaning is crucial. Remove all furniture and thoroughly sweep or vacuum the floor to eliminate any loose dirt and debris. Use a suitable wood floor cleaner to remove any remaining dirt and grime.
Sandblasting with Specialized Equipment:
Sandblasting should be carried out by trained professionals with experience using specialized sandblasting equipment. The equipment propels fine abrasive particles onto the floor's surface at high speeds, effectively removing the layers of varnish, coatings, and stains. The sandblasting process requires skill and precision to ensure an even and consistent result.
Cleaning and Sealing the Floor:
Once the sandblasting process is complete, it is essential to thoroughly clean the floor to remove any residual abrasive particles or debris.
This is typically done using a combination of sweeping, vacuuming, and mopping. After the foundation has been cleaned and dried, it is ready to be sealed with a new varnish or finish. The wood's intrinsic beauty is preserved and even enhanced by the sealing process.
Importance of Hiring Qualified Professionals for Proper Sanding and Even Application
Sandblasting hardwood floors is a complex process that requires expertise and precision. Hiring qualified professionals ensures the sanding and finishing are carried out correctly.
Professionals have the necessary experience and knowledge to assess the condition of the floor, determine the appropriate abrasive particles and pressure, and achieve an even and consistent result.
Professional sandblasting eliminates the guesswork and potential risks associated with DIY sanding. Professionals understand the limitations of sandblasting and can tailor their approach to different wood species, ensuring the best possible outcome. They are also well-versed in safety protocols, protecting themselves and the homeowner from potential hazards.
Conclusion
Hardwood floor sanding is a transformative process that revitalizes old and worn-out floors, returning them to their former glory. Whether through the skilled hands of professionals or a well-executed DIY project, hardwood floor sanding can enhance the wood's beauty and durability.
Soomission, a reputable company specializing in wood floor services, including hardwood floor sanding, offers a combination of expertise, experience, and quality craftsmanship. Their trained professionals understand the art of sanding and employ the proper techniques, tools, and products to deliver exceptional results.
By considering hardwood floor sanding as a viable option for floor restoration, homeowners can rejuvenate their living spaces, creating an environment of timeless beauty and long-lasting durability.
Whether seeking the services of professionals or undertaking a DIY project, the art of hardwood floor sanding is a remarkable journey that yields great rewards. So, take the first step towards transforming your feet and experience the artistry of hardwood floor sanding with Soomission.