While seeing the transformation of cluttered spaces into harmonious and organized areas is a cathartic ordeal, the journey there is nothing short of overwhelming.
Figuring out where to start, how to proceed, and how long it may take can discourage you from attempting. However, the decluttering process does not have to be challenging—all you need is motivation, optimism, and a strategy.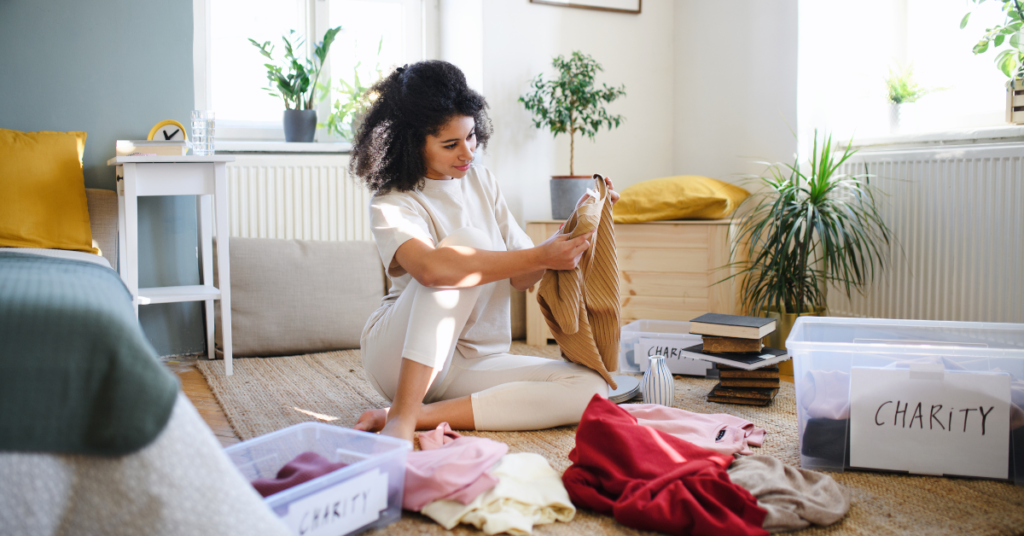 You have the former two; this article will give you the latter.
Embrace the peace of mind that brings an organized space with these easy ways to declutter your home. Each tip will help you craft the best method to tackle disorder in your living areas and transform them into beautiful, Pinterest-worthy rooms.
1. Choose Your Method
Anyone can declutter with enough time, effort, and motivation. However, decluttering efficiently is an art that may require some forethought and strategy. You can find many methods online that offer a quick and efficient approach to organizing your home.
For example, the most common decluttering method proposes that you focus on one area of your home at a time: the bedroom first, then the bathroom, and so on.
Marie Kondo proposes an alternative approach: going by category and not location—tidy all clothes first regardless of where they are, then move on to your books, and continue until you have organized your home.
Choose the best strategy, but remember to stick to it!
2. Write a To-Do List
After choosing your method, the best way to keep yourself motivated and organized is to write down a to-do list.
It's easy to forget what you are supposed to do or what should be your next step, so keeping track of your goals is the best way to ensure efficiency and prevent you from overlooking an area or space.
Likewise, writing down each area or mess you wish to tackle helps you see how far you've come and gives you a realistic timeframe of what's left to do.
By writing a to-do list, you are organizing your thoughts before organizing your living space.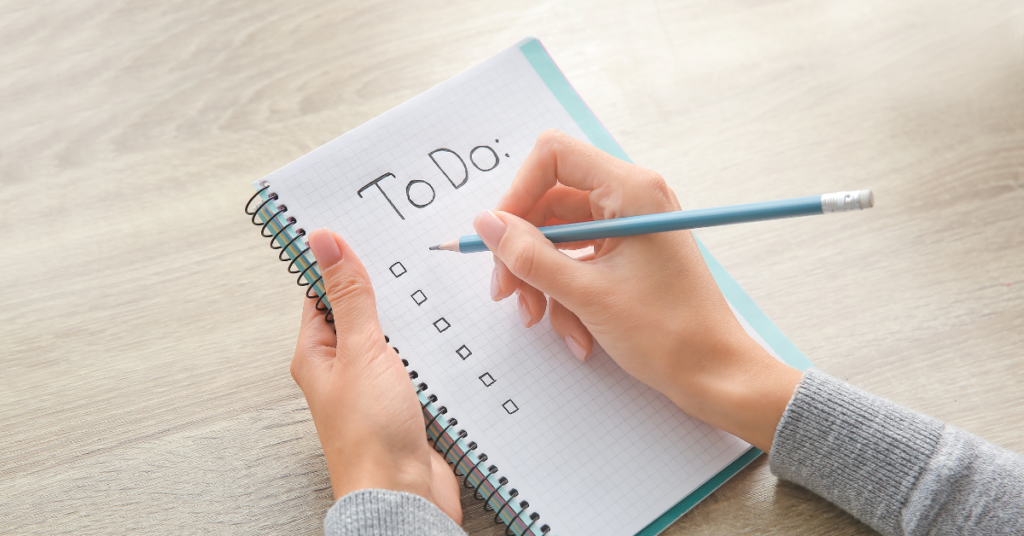 3. Start with Small Goals
Discouragement is the number one enemy of decluttering. Most people start organizing their homes with grand hopes and plenty of motivation, only to quickly lose interest and become frustrated when results take time.
That is why your to-do list should be littered with small, detailed, and specific goals that can be done fast and efficiently—it guarantees progress and keeps you motivated to continue to the next step.
For example, writing down "cleaning the living room" as a goal for Day One is too ambitious and hard to achieve quickly, which may lead to frustration. Instead, try to begin with a smaller goal—"organizing the first two rows of the bookshelf" is doable and specific.
Completing small goals as you begin gives you a sense of satisfaction and motivates you to continue moving forward.
4. Invest a Little Time Every Day
Starting small is not just about space but also includes time.
Feeling as if you should set aside a whole day for decluttering is inefficient and counterproductive—odds are you have many other things to do, which may delay your cleaning goals indefinitely.
Instead, consider investing a little bit of time every day. Whether it is ten minutes or an hour, make sure it matches your possibilities and it's something you can do consistently without interruption.
5. Recycle, Donate, or Sell What You Don't Need
One of the quintessential decluttering tips you see everywhere is to keep four bags or bins ready—donation, recycling, selling, and throwing away.
Books are one of the clutter hotspots of any home, as they are easy to accumulate, and you may be hesitant to part with them. However, donating textbooks you no longer need—or selling them to book vendors—is an easy and efficient way to reduce mess.
Clothes and memorabilia are other items that can quickly clutter your home, but you should proceed with caution with them. Items with sentimental value can also be harder to dispose of, so keep only the most important ones.
A good rule to remember is that if you haven't used or thought of an item for the past year, it may be best to let it go.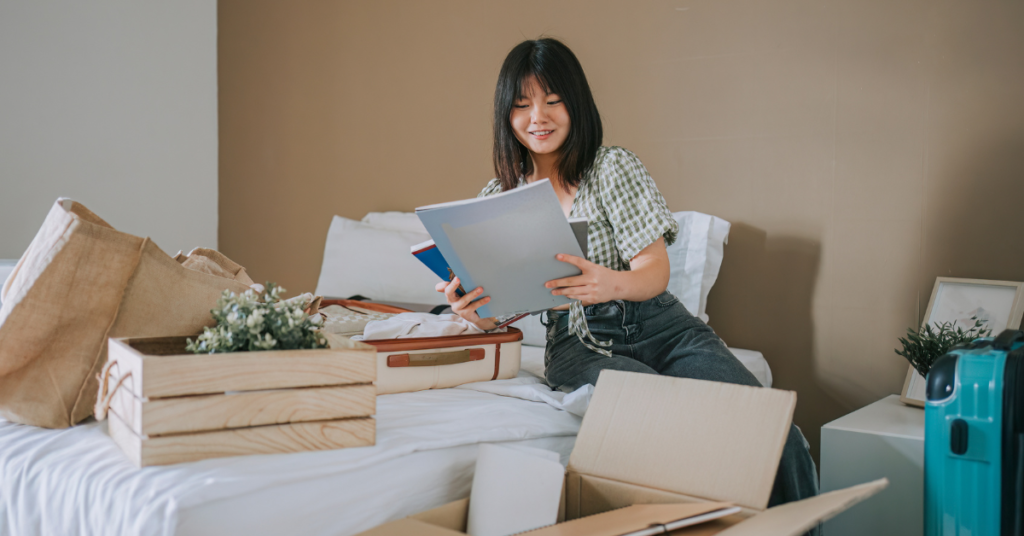 6. Save Paper for the Last
Paper clutter is perhaps the worst of them all: it's easy to accumulate, may be extremely important, so you may hesitate to get rid of it, and it takes time and effort to go through it.
Whether it is old bank statements, college papers, or something else altogether, paper clutter is best saved for last. Browsing through paperwork is time-consuming and won't be an impactful change—a recipe for frustration.
Instead, focus on paper decluttering once you've made significant progress in other segments and consider yourself satisfied. Sit down alongside boxes or bags labeled "keep," "recycle," or "shred" to make the process easier.
7. Make Sure Everything Has a Home
Storage is the heart of order—most cluttering issues come from having too many items without the proper space to give them a permanent home.
Make sure every item you decide to keep has a place where it belongs without overcrowding. For example, keep only as many clothes as your closet can store, have a given spot for your keys and wallets, and store your bathroom toiletries in a designated area in a drawer or shower shelf.
If you do not have a permanent home to house your items, you should either part ways with them or improve your use of space. For example, plastic containers or vertical shelves are excellent ways to use your space and reduce clutter efficiently.
8. Keep Similar Items Together
Alongside giving each item a proper storage location, another critical aspect of order is ensuring similar items exist near each other.
Keeping a designated area for cleaning supplies, a section of your pantry for canned foods, or a specific drawer for pet toys are all excellent ways to train your brain to associate certain items with certain spots in your house.
Not only does this make it easier to pinpoint where you may have last placed the dog's chew toy, but it will also make it easier to store things back in their designated home and keep clutter from happening again.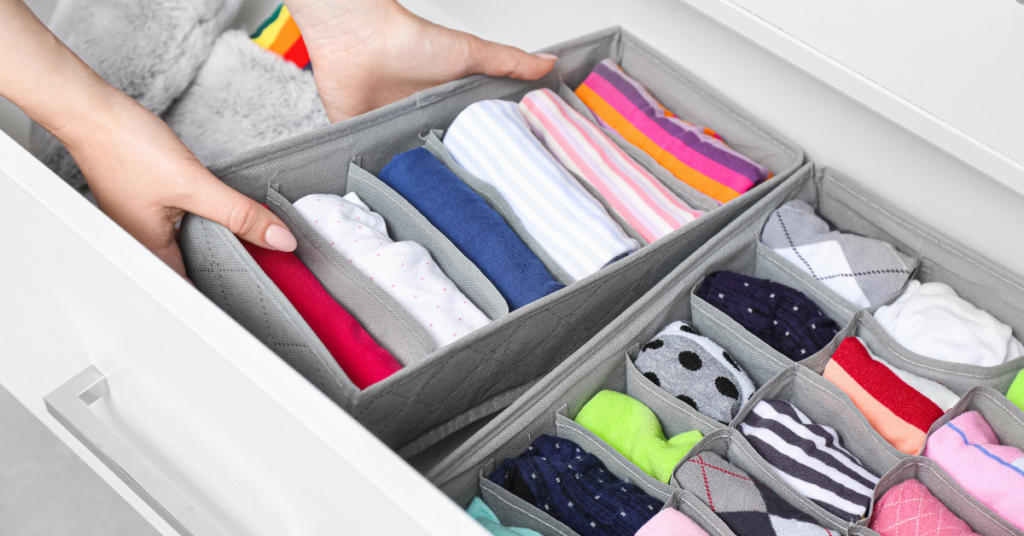 9. Keep Your Flat Surfaces Empty
Even if your home is perfectly organized, crowded, flat surfaces always give the visual impression of a cluttered home.
Shelves, countertops, tables, and many other flat surfaces are accessible destinations for clutter. Think of your keys, sunglasses, and many other miscellaneous everyday items and how often they end up on your table rather than their designated spot.
If this is a common problem, consider investing in small "clutter" baskets, boxes, or bins and keep them in busy spots. There, they can function as temporary areas for many everyday necessities, reducing the visual impression of clutter and making locating misplaced items easier.
10. Be Consistent
Decluttering is a marathon, not a sprint.
You may be tempted to get all your decluttering done as fast as possible to get some Pinterest-worthy results. However, the truth is hardly like that. Decluttering takes time, effort, and patience—some of which you may not have.
Rather than investing all your time and energy in a single day and ending up discouraged due to your lack of progress, consider it an ongoing project. Play music, call friends, listen to a podcast, and do whatever you can to find the joy in bringing the shine back to your home.
After all, the results will be worth it.