Different electricians have different specifications depending on their skill set and job description.
Commercial electricians focus on commercial buildings rather than residential buildings.
Their skillset involves working with complicated electrical systems of high profile commercial buildings such as malls, tall rise buildings, restaurants, and other commercial buildings.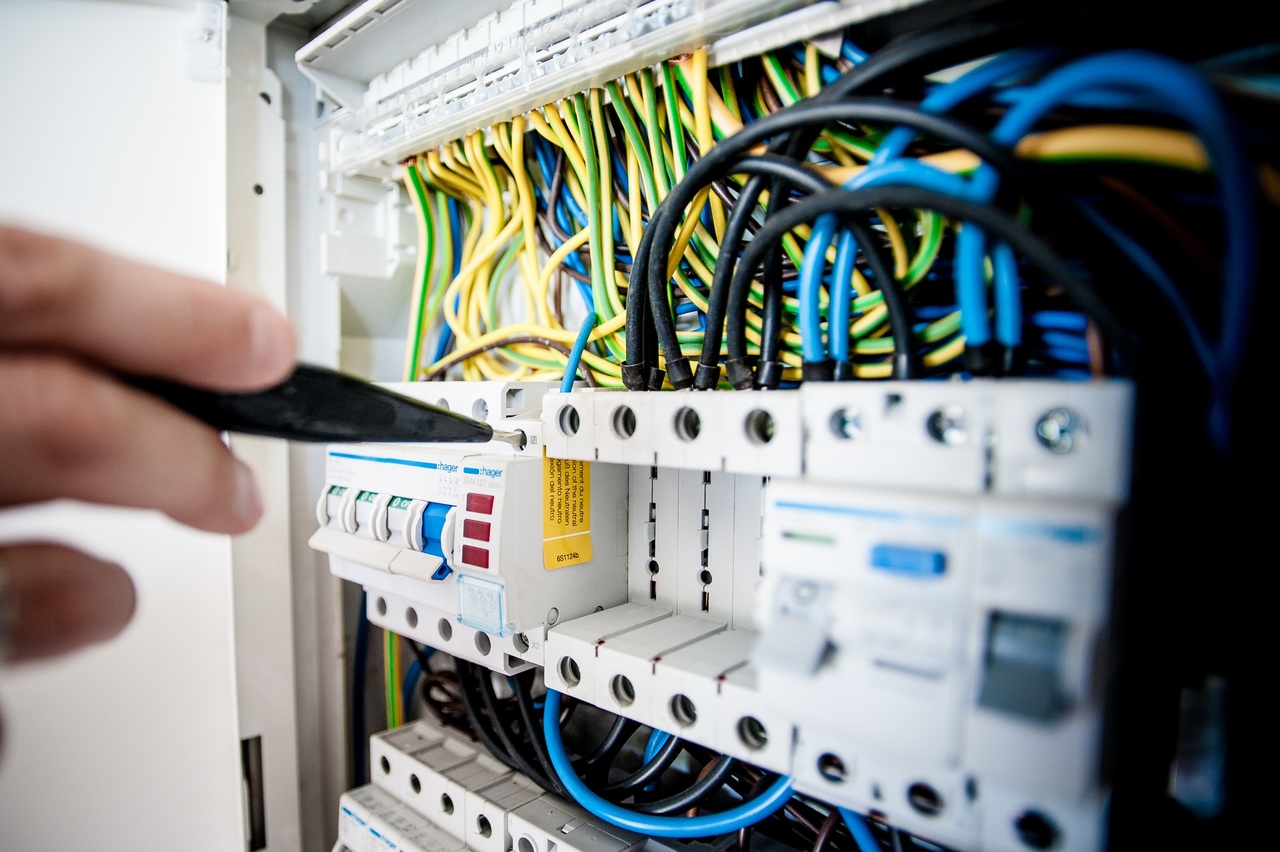 Responsibilities of A Commercial Electrician
A commercial electrician is responsible for maintaining electrical systems in a building.
These include having the capacity to install, maintain, inspect, diagnose and fix any possible problems that might arise, however, at a more advanced degree.
Due to the massive size of commercial properties, commercial electricians should know how to read and analyze technical drawings to familiarize themselves with the electrical systems and components.
The ability to plan electrical systems for new construction is also paramount. This enables the contractor to commission the commercial electrician to develop a functional design to serve the building to its highest capacity.
A commercial electrician should be able to lead a team of electricians in the construction. This includes assigning roles and responsibilities of each electrician and ensuring that the electrical goals are done with precision and tact.
Ensuring that electrical systems are functional and work within their capacity is another responsibility of the commercial electrician.
As the commercial property's overall electrical supervisor, the commercial electrician is responsible for routine checks of meter systems to check whether they are on code.
This includes being able to predict possible hitches in wiring and electrical usage.
A credible commercial electrician should also follow the local and state guidelines for wiring and electrical systems.
This is paramount in ensuring they use the proper parameters and settings required in each state to prevent lawsuits and malpractice.
---
Read Also:
---
Qualifications of A Commercial Electrician
A commercial electrician qualifies to be one after attaining a high school diploma. An apprentice certificate is an additional bonus.
After this, having a level, three diplomae in electrotechnical services is required.
The individual must then take up an apprenticeship from an experienced commercial electrician until they are qualified to take on the job by themselves.
It takes a total of three to four years for one to be a professional and qualified commercial electrician.
Different states have different licensing and training requirements for commercial electricians. This is due to the varying commercial settings in states that require additional training to understand the electrical system in the area.
For instance, most commercial buildings require a three-phase system.
As a result, the individual will be required to undergo training by finishing many stipulated hours learning about these distinctions.
This training is also done on the job or during work experience. Some states require the commercial electrician to specialize in both commercial and residential work.
This gives them an overview of the different systems available and equips them to better skills and understanding.
There are several risk factors involved during a commercial electrician's work as their job is physically demanding and tedious.
The risk of shocks, injuries, or fires from equipment is ever so dire. Therefore, the proper safety gear and safety regulations are needed to counter these risk factors.
A commercial electrician's job requires continuous practice and training to keep up with the developing trends in the electrical industry.
Salary and Job Outlook
The job of a commercial electrician is demanding, and with the long working hours, the demand for several electricians is ever so imminent.
The average base salary for commercial electricians is $22.80 as of 2021.
The salary per year is dependent on the electrician's experience, client base, and location. All these factors contribute to their ability to work overtime and get construction jobs from inception.
Trends in The Electrical Industry
Commercial electricians face significant changes with new and innovative trends set to rock the electrical industry over the coming years.
With more electricians on the rise, the industry is set to experience a competitive edge with more technological developments.
Commercial electricians are seeking out innovative technology to create a niche for themselves in the market.
For instance, intelligent grid systems' evolution is bound to enhance communication and control technologies in transmission and distribution.
The control systems are also bound to be faster and more reliable, with intelligent metering systems to enable a smoother and more seamless distribution in commercial buildings.
Commercial electricians also transform their brands to rally behind the green commitment, which aims to enhance sustainability.
For instance, calling on the supply chain to factor in their electrical systems' environmental impact by regulating the amount of carbon they generate will go a long way in ensuring their clients are satisfied in their commitment toward sustainability.
The smart city project initiatives coming up are creating job markets for commercial electricians.
Therefore, with the right qualifications, individuals specialized in this work line can get contracts that propel them to the next level.