Plenty of conventions have come and gone over time. Some lasted for years or even decades while others barely emerged before fading away, rarely to be thought of again.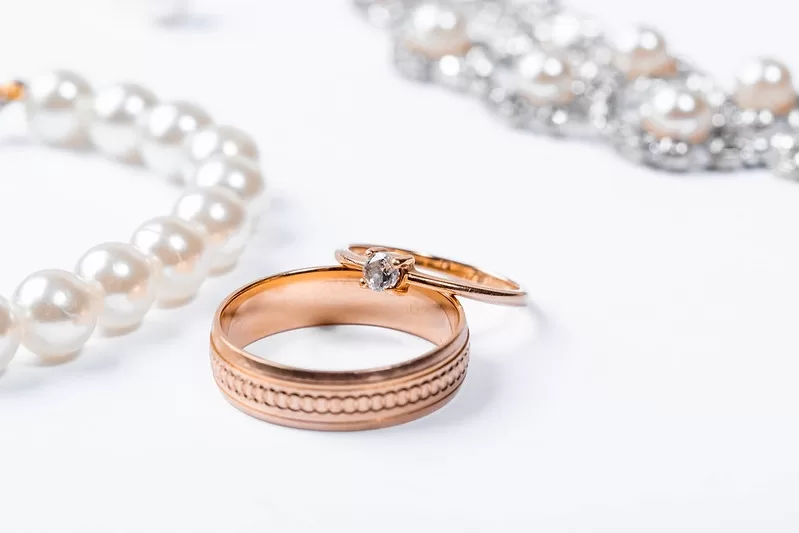 Of course, certain customs of the past ultimately evolved into traditions that have withstood the test of time. Though many fashions and fads garnered plenty of attention in their heyday, only a handful have maintained long-term recognition. Wedding bands are certainly among those elite few.
People have been wearing wedding bands to symbolize their love for millennia. Though time, culture, and conventions have significantly changed, the tradition of wedding bands has remained strong. That's obviously not going to change.
These rings have undergone transformations and branched out into countless variations, but they'll never lose their luster. People looking for timeless wedding bands to represent their undying love have several options to choose from.
A Brief Glimpse Back in Time
Some historical reports indicate that wedding bands came into play at least 6,000 years ago. This custom is believed to have begun in ancient Egypt, eventually spreading to ancient Greece and Rome. Over time, it expanded across the globe.
Early civilizations initiated the custom of wearing wedding bands following the union of two people as symbols of their commitment to each other. After all, rings are circular, infinite if you will. As such, they were the perfect emblem of unending love. 
Those ancient civilizations also created the convention of wearing wedding rings on the fourth finger of the left hand. Though the heart is technically situated in the middle of the chest, it bears slightly to the left. Ancient Egyptians, Greeks, and Romans believed that made the left hand was the perfect place to wear a wedding ring since it was closest to the heart.
Furthermore, they believed a vein ran through that finger directly to the heart. As such, the connection between the left ring finger and the heart was unmistakable and inescapable. It was sheer destiny that a ring meant to symbolize a lifelong bond of love be worn on that particular finger. 
As mentioned, wedding bands have changed since they first became symbols of love and unity. Back in the early days, historians believe they were probably made of reeds, flax, or other natural resources. Eventually, wedding bands were likely made of cut and polished bone.
Certain stones may have even been used to fashion wedding rings. Different types of metals and, eventually, precious metals entered the mix and have remained traditional wedding ring materials ever since. 
What Makes a Wedding Band Timeless?
All that brings us to the question of what makes wedding bands timeless. Opinions vary greatly on this matter. There's little denying that the enduring nature of the custom itself makes such rings timeless.
By that line of reasoning, any type of wedding band would be timeless by principle. Simply following the convention of wearing it to signify love and eternity would make it everlasting. Beyond that, though, different opinions enter the mix. 
Style
Some people feel that the style of a wedding band is what determines whether it's timeless. Early wedding bands were simple, and many people still adhere to that tradition. They choose wedding rings that are simple bands of gold.
Those who want to stick to this convention while also branching out a bit may choose white or rose gold as opposed to standard yellow gold. Conversely, they may opt for silver as their precious metal of choice or select one of the relative newcomers to the world of jewelry, such as platinum, titanium, or even tungsten carbide. 
Timeless styles are those that remain relevant over the years. That's why simple designs are so often placed into this category. Still, simple is a relative term these days. Numerous wedding bands have the allure of timeless elegance without being overly plain and common.
Those include infinity and eternity bands, both of which are designed with a braided appearance, though the two differ a bit. Generally speaking, infinity bands are made of precious metals alone whereas eternity rings feature diamonds or gemstones.
Longevity
Another factor that contributes to the timelessness of a wedding band is its longevity. Some precious metals are more durable than others. Gold is a classic choice, but the higher its karats, the weaker it is.
Though 24-karat gold is considered pure, it's notoriously weak and can easily be damaged. On the other hand, 10- and 14-karat gold contains higher concentrations of other metals, but they're much more durable.
Metals like tungsten carbide, platinum, palladium, and titanium are naturally more resistant to damage. Therefore, they can last a long time, easily holding up to constant wear and the abuse of daily activities. According to some people, being able to last as long as the love they represent is what makes wedding bands timeless.
Stepping Outside the Box
From another perspective, no set-in-stone rule says that a wedding band has to follow a classic style or be made of a specific type of metal to be timeless. These days, there's no limit to the possibilities. Wedding rings can be curved, scalloped, braided, stacked, or spiraled, to name a few options.
They can be etched, embossed, or engraved. They can feature channels with inset stones or be designed with rows of raised stones. Customized wedding bands are growing increasingly common, so they may very well become the timeless rings of generations to come. 
Timeless Symbols of Endless Love
By some accounts, timeless wedding rings are simple gold bands. Their minimalistic designs ensure they'll be relevant for years to come, so they can be passed down from one generation to the next. Being durable can also contribute to that lasting nature and the ability to withstand the test of time.
Considering all the possibilities now available and the burgeoning creativity that goes into wedding band design, timelessness is largely a matter of perspective. With that in mind, virtually any ring that symbolizes a union borne of unending love is essentially timeless.