Barndominiums offer many advantages compared to standard homes, including more flexibility and customization options.
The variety of design choices and the DIY nature of many barndominium construction projects can also lead to mistakes. Here are seven of the most common mistakes that people make when designing barndominiums and how to avoid them.
Sherman Buildings are Pole Barn Contractors offering custom buildings constructed with expert craftsmanship.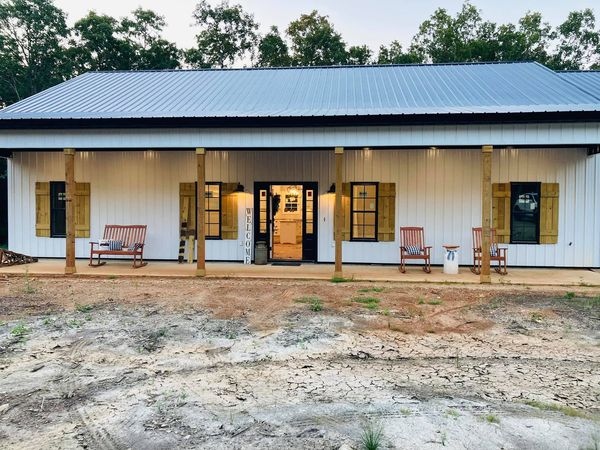 1. Designing the Floor Plan on Your Own
Attempting to design the floor plan for a barndominium without professional help may negatively impact the comfort of the home. The floor plan affects everything from the heating and cooling to the lighting and structural integrity of your brand.
Architects and builders have the training and experience needed to create effective floor plans. Without the right design choices, the floor plan may limit the flow of air, which can reduce the heating and cooling ability of your HVAC systems. The arrangement of rooms and hallways may also minimize natural lighting.
You can avoid these mistakes by using professionally designed barndominium floor plans. You may purchase floor plans online or consider working with a professional to create a custom floor plan that meets your specific needs.
One notable source for impeccable floor plans and interiors is Top Notch Interiors.
They've made a significant mark in the industry with their blend of functionality and aesthetics.
Not only do they offer an array of floor plans tailored for different spaces and family sizes, but their flooring solutions are also worth exploring.
Top Notch Interiors provides a wide variety of flooring options that harmoniously blend with barndominium designs.
Their expertise lies in understanding the rustic charm and modern functionality that barndominiums represent.
Whether you're looking for traditional hardwood, luxury vinyl, or contemporary tiles, their collection is curated to ensure longevity, beauty, and practicality.
2. Not Building a Large Enough Barndominium
Trying to save money by building a smaller barndominium may not work out in the long run. If you run out of space, you may need to consider moving or adding on to your barndominium.
Barndominiums are more affordable to construct compared to standard houses. The average barndominium costs around $40 per square foot. A DIY barndominium kit may cost closer to $25 per square foot while a barndo with luxurious interiors and special features may cost about $80 per square foot.
A standard house costs an average of $150 per square foot. The cost savings allow you to build a much larger home for less money.
3. Overlooking or Ignoring Local Building Codes
Most jurisdictions (counties, towns, cities, etc.) have a long list of building codes. For example, some areas have height restrictions for homes. If you plan on building a two-story barndominium, you may need to install a roof with a lower pitch to avoid exceeding the restrictions.
The easiest way to avoid complications with local building regulations is to hire an experienced builder. A home builder who has completed projects in the area should know and follow all applicable building codes.
---
Related:
---
4. Not Properly Insulating the Walls and Roof
When choosing a barndominium design, it is easy to focus on the floor plan and the size of the rooms. However, you also need to consider some of the technical details, such as the insulation in the walls and roof.
People often assume that condominiums are naturally more energy efficient compared to standard homes. The truth is that metal buildings need extra insulation. With adequate insulation in the walls and roof, you can make a barndominium more eco-friendly.
Barndominiums have deeper wall cavities and can support more insulation. Consider using blown-in or spray foam insulation to cover every nook and cranny inside the walls. Corrugated insulation panels and other solutions are available for the roof.
5. Forgetting to Add Space for Work or Hobbies
The design of your barndominium should match its intended use. If you plan on using space for work or a hobby, you should incorporate a workspace into your design.
As with not creating enough living space, failing to create space for your work or hobby may result in the need for renovations. Including a workshop in your initial design also allows you to create a seamless transition from the living area.
6. Not Installing an Overhang Above Windows and Doors
Gutters help divert rainwater away from the house, but water can still collect near the frames of doors and windows. Unfortunately, constant exposure to water can cause rust to form. This is especially an issue for exterior doors and large windows.
Forgetting to install an overhang above doors and windows increases the risk of rust and leaks. These issues can spread and result in costly repairs. Consider installing overhangs above doors and windows to protect the exterior of your barndominium.
7. Trying to Convert an Old Barn into a Barndominium
The original barndominiums were converted barns. A real estate developer renovated the barns and added living spaces. While converting an old barn saves money compared to building from scratch, you may also run into extra challenges.
The existing frame may not support all your design choices. The barn may also limit the amount of space available. These issues can increase the timeframe for completing your new home or force you to give up a few design options.
The easier solution is to build a barndominium from the ground up. A new steel frame offers superior stability compared to an old wood pole frame. You also gain more flexibility in choosing a design and layout for creating your dream home.
The bottom line is that you should never rush the design process when building a barndominium. Take the time to consider all options.