Do you have a driveway or patio marred by unsightly stains and imperfections? Breathe new life into your outdoor spaces using an angle grinder.
Not only is this versatile power tool perfect for cutting pavers, but it can also help you remove stubborn surface blemishes.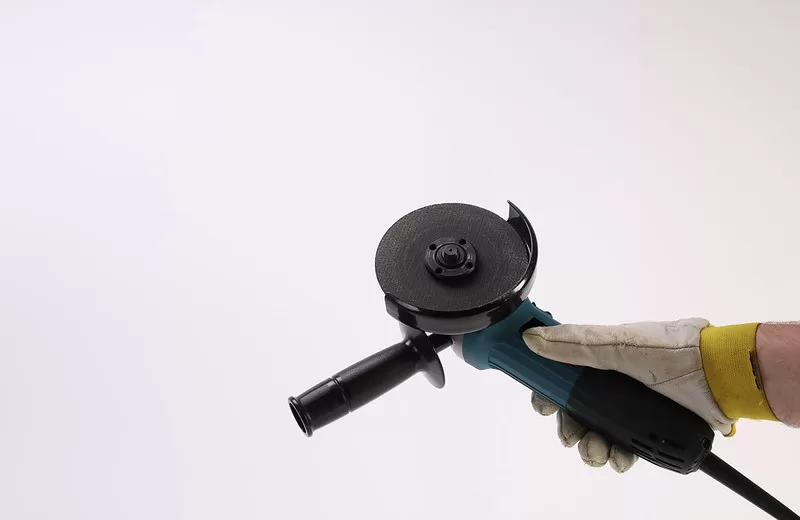 This article will discuss the benefits, different types, and safety precautions of angle grinders and how to use them for an impeccable outdoor renovation.
Why Use an Angle Grinder?
An angle grinder is an excellent tool for removing unsightly stains and imperfections from your driveway or patio. It's versatile, powerful, and efficient in tackling jobs such as cutting pavers or reshaping surfaces.
With the right attachments and techniques, you can easily remove stains, even out rough patches, and restore your outdoor area's appearance. Unlike other methods, an angle grinder allows for precision and control, ensuring you achieve a professional-quality result.
Whether it's a stained concrete driveway or an uneven stone patio, an angle grinder is valuable in reviving and maintaining your outdoor space.
Types of Angle Grinders and Attachments
Numerous types of angle grinders are available, and each comes with unique features and attachments.
When it comes to cutting pavers or removing stains and imperfections from your driveway and patio areas, the type of grinder and attachment you choose plays a significant role in achieving the desired results.
Electric angle grinders are the most common and are available in various sizes and power levels.
These grinders come with different cutting disks and wire brushes, suitable for grinding concrete, cutting metal, or removing rust and loose paint. Diamond-tipped cutting disks are preferred for cutting pavers as they offer precision and durability.
Cordless angle grinders are another option that provides increased mobility and ease of use. These battery-powered tools work best for small-scale projects or when you need to move around the workspace freely.
Pneumatic angle grinders are powered by compressed air and are typically used in heavy-duty industrial settings. This type of grinder may be overkill for most residential driveway and patio projects but is worth considering if you have significant work to do.
Once you've selected the appropriate grinder, choose the proper attachment. Wire brushes are great for removing rust while grinding and flap disks help smooth and remove surface imperfections.
Diamond-tipped cutting disks are the best option for cutting pavers or working with concrete. Remember, using the proper attachment and technique is crucial to effectively rejuvenate your driveway and patio.
Safety Tips When Using an Angle Grinder
Safety should always be a top priority when using an angle grinder, as this powerful tool can cause serious injuries if not handled properly. To avoid accidents and ensure a safe and efficient job, follow these essential safety tips:
Always wear the appropriate personal protective equipment (PPE), including safety goggles, ear protection, gloves, and a dust mask.
Before starting the angle grinder, ensure the wheel is securely attached and not damaged. Inspect the tool for any loose parts, and ensure the power source is properly grounded.
Make sure that the work area is clean and well-lit. Clear away flammable materials, as sparks from the angle grinder can ignite them.
Firmly secure the paver, patio, or driveway surface you will work on to prevent it from moving and causing an accident.
When cutting pavers with an angle grinder, always cut in a straight line, and avoid abrupt turns that may cause the blade to bind or kick back.
Be mindful of the position of the electrical cord and extension leads, as they can pose a tripping hazard. Always ensure that they are kept well away from the cutting zone.
Be vigilant when using a cutting disc, as it can generate a lot of dust and debris. Ensure the angle grinder has a dust extraction system to minimize this hazard.
Finally, never attempt to bypass any safety features on the angle grinder, such as the lock-off switch or adjustable guard. These measures are in place to help protect you from any potential risks while using the grinder.
How to Remove Stains and Imperfections on Driveways and Patios
Select the appropriate attachment for your angle grinder, such as a diamond grinding cup wheel, to remove stains and imperfections on your driveway or patio. This choice will depend on the stain or damage you're trying to fix. For example, a diamond blade would be best if you cut pavers with an angle grinder.
Before you begin, ensure your workspace is cleared of debris or obstacles. Mark the area you plan to work on with chalk or similar material to guide your grinding.
Start the angle grinder and carefully lower the spinning wheel onto the marked area, applying light pressure. Work in small, sweeping movements, easing the angle grinder into the surface to avoid gouging or damage.
As you progress, regularly check your work to ensure you're not removing too much material or causing further damage. Once you've removed stains and smoothed any rough patches, use a brush to remove dust and debris from the surface.
You'll be ready to begin the finishing touches and keep your driveway or patio well-maintained.
Finishing Touches and Maintenance Tips
To revive your driveway and patio, consider cutting pavers with an angle grinder, which can easily remove stains and imperfections on the surface, giving it a fresh and polished look.
First, sweep off any residue or debris caused by cutting or grinding. If necessary, use a hose to wash down the area – this will help remove leftover dust and ensure a clean surface.
Following the cleanup, assess the need for sealants: sealing your driveway or patio will protect it from further wear and promote longevity.
Lastly, establish regular maintenance routines, such as sweeping and occasional pressure washing, to keep your outdoor space looking good. Remember, preventative maintenance can help avoid costly repairs and keep your driveway and patio pristine for years.
Conclusion
In conclusion, reviving your driveway and patio using an angle grinder to remove stains and imperfections is an effective and efficient solution for homeowners. With the appropriate type of angle grinder, the proper attachments, and observing safety precautions, you can achieve professional-level results in no time.
Whether cutting pavers with an angle grinder or removing imperfections and blemishes, this versatile power tool will become your go-to for tackling home improvement projects.
Remember to invest in the necessary safety equipment and follow the instructions provided by the manufacturer. After completing your project, maintain your driveway and patio by regularly cleaning and sealing the surface, ensuring it remains in excellent condition.
With an angle grinder, you'll always be ready to tackle any DIY project and keep your outdoor spaces inviting.