Nowadays, many buildings use HVAC systems to boost the quality of the air surrounding them. It is perfect for maintaining large buildings that need good ventilation and minimizes the chances of bacteria spreading and causing risk for everyone.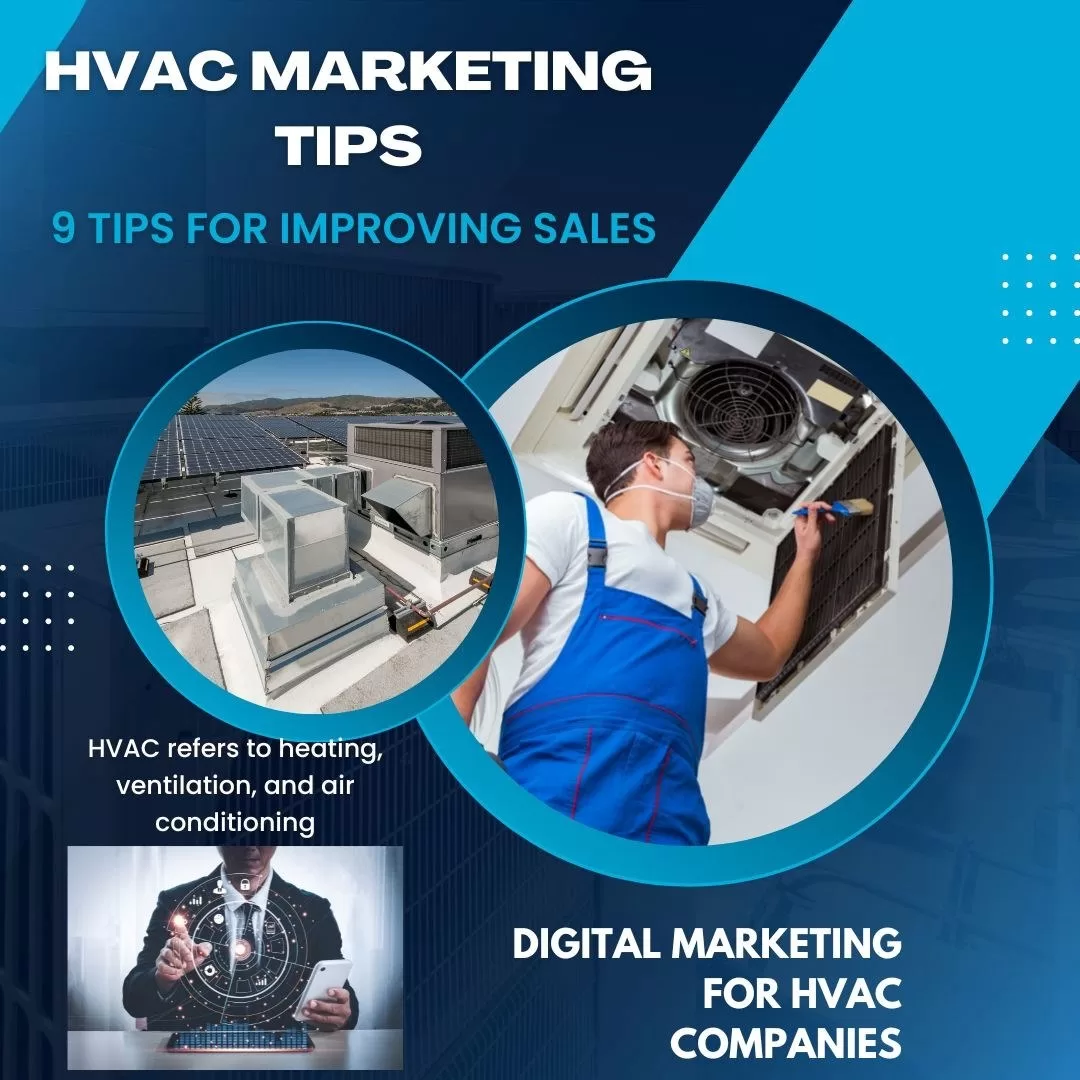 Because of the rise in HVAC systems, there are a lot of changes in the market, and different HVAC marketing companies think of different HVAC marketing ideas to improve their sales.
What Does HVAC Mean?
HVAC refers to heating, ventilation, and air conditioning. HVAC represents the different systems used in both residential and commercial establishments for heating, cooling, and transferring air between the inside and outside parts of a building.
Because of the systems, you are able to stay warm and comfy during winter and energized in summer. HVAC also provides a good quality of air anywhere and entails the removal of any harmful bacteria inside a building. Furthermore, they are gadgets that keep you healthy by maintaining optimal humidity levels and clean indoor air.
How Does HVAC Work?
Each component of your home might be self-contained such as a radiant system combined with window air conditioners. However, integrated systems, such as central heating and air conditioning systems, use a single fan to circulate air through internal ducts in a home or with a ductless system for different parts of the rooms.
The Principles of HVAC
An HVAC system provides more than just heating and cooling. Instead, it contributes to everyone's comfort in a facility and improves indoor air quality. HVAC systems exist in a variety of forms and sizes, but they always begin with the same basic components.
First, fresh air may enter the home from either the outside or the interior. Ventilation occurs in two ways. Natural ventilation, which is air moving in and out through windows, doors, vents, and other openings, is found in the majority of dwellings. This air exchange is essential to remove excess moisture, carbon dioxide, and odors while also renewing oxygen.
The V in HVAC stands for mechanical ventilation, which employs an automated system to flow air in and out. In the past, most homes had enough natural ventilation via building gaps and cracks as well as door opening and closing.
However, because of how securely sealed homes are being built nowadays, ventilation is becoming a more crucial part of HVAC systems for homes. After the air is brought in and sucked into an air-handling device, the procedure begins. Air is drawn through filters here to remove particles such as dirt, dust, allergens, and other impurities.
Afterward comes comfort. To cool and remove extra humidity, the air is either sent to be heated or to be cooled. The air is then sent into the house after it has been cleaned, freshened, and made comfortable. To get access to multiple rooms through central systems, one must navigate a maze of pipes and registers. Other systems frequently need to be directed directly at the region. Here are some tips to further improve sales in HVAC marketing:
---
Read Also:
---
HVAC Marketing Tips to Advance Sales
The HVAC industry is on the rise, and any company wants to step up and get the best HVAC marketing ideas. But how can they do that? Here are some HVAC marketing tips you can take note of:
1. Build a Better Website for an HVAC Marketing Company
Creating an accessible website will help you boost your sales. Why? Because not all HVAC websites are built the same. Some will rank higher in search and some will have a lower rank. You can modify your website to increase your ranking and land more contracts.
2. Make use of Content Marketing
Content marketing is one of the efficient and easy marketing strategies yet many HVAC marketing companies fail to take advantage of it. This strategy helps your website to rank high in Google and stand out from any competitor.
Remember that in content marketing, you need to cater to the needs of the customers, and you should create content that is valuable and HVAC-related to keep ranking higher in Google. When you create a topic, try to think of the customers and consider what they do. Think ahead of what steps they will make according to the current season and produce an article that will greatly help the customers.
A well-written article will do the following:
Improve your credibility with customers and future customers.
Provide information for the customers.
Provide possible partnerships with other marketers.
Increase organic traffic to your website based on what keywords you used in the content.
Have a high possibility of attracting new customers.
3.  Be Accessible to Buyers
Consider how simple it is to locate the cash register at a store. Consider how difficult it is to purchase from some websites. There are numerous bad HVAC company websites out there don't be one of them! Your website should be basic, clear, and to the point. Make it easy for customers to purchase your goods or service.
Gather all of your important data in one place. Consumers will leave an overloaded HVAC website that operates badly. Also, provide a contact form or page with all potential ways for people to contact you in one area. This contains contact details, email address, contact form, company hours, location, and any other information you may need to provide.
4.  Be Mobile-Friendly
You're behind the times if your website isn't mobile-friendly. Since technology has advanced, mobile-friendliness has become a ranking component in Google's engine, and almost all local searches are conducted by mobile devices. Because more than half of your clients visit your site by a smart device, your website must be developed with a "mobile-first" approach.
Clients should not have to search for information nor should they be forced to zoom in to read your content. They should also be able to simply reach you and utilize your phone app virtually easily. Your website may be responsive, but if it is not made for mobile.
Your aim is for an individual to walk away and think that it was easy to use your website. With this, customers will probably use your application again. Now that you have a responsive HVAC website, the next step is to think about how effectively your phone app functions for customers.
5.  Take Advantage of Social Media
This strategy is common and probably one of the most used in marketing. Now that HCAV is now making its name, an HVAC marketing company should make use of social media.
A few individuals assume that only particular sectors should participate in social media platforms. However, with how many customers are impacted by these platforms, practically all businesses can see the advantages of being socially involved. And because of this, there is a high possibility that you can outrank any competitor.
This method will assist you in raising name recognition for your HVAC company. Apart from brand awareness, you may effortlessly publicize your services and discounts. And to reap the maximum rewards, you must be able to maintain your account and conduct surveys and assessments of your services to see where you can improve.
6. Make Use of The Reviews Left by Customers
It is critical to regularly use and interact with internet reviews. Consider this while selecting a dining establishment or your upcoming getaway. What is one of your first actions? You look at how many stars it has and what others have commented about it. Others want to follow suit for their HVAC businesses; it's just the way things are.
Positive evaluations from real people assist to generate critical social proof: the more online reviews and reactions your firm receives, the more credibility you'll acquire and the more clients you'll attract. Potential clients want to do business with organizations that care and have offered outstanding service to others.
7. Honesty in your Pricing
Pricing is the most important factor that clients evaluate while looking for HVAC contractor services. As a result, you'll want to be open about your pricing models. It is advantageous to advertise your services and rates on the front page so that your consumers can acquire answers quickly. Alternatively, you may create a separate page for your services. In any case, make your website easy to navigate by using strong headings and clickable links.
8. Using of Advertisements
A company's advertising strategy is the totality of its outreach efforts to develop brand recognition and drive sales. These aims might include introducing new goods, boosting sales conversion rates, obtaining social media followers, accessing a target market, and engaging current consumers.
Instead of making rash ad purchases, effective businesses begin their outreach by developing extensive advertising tactics, which are frequently included in a formal marketing strategy. An effective advertising strategy integrates a company's marketing and business objectives. The goal is to optimize the company's advertising budget so that every dollar spent serves a purpose.
9. Getting Ideas from Other Companies
Utilize sophisticated digital marketing tools or just visit your rivals' websites every two weeks. You'll learn about their promotions and possibly get ideas for your own business.
We even advise our clients to subscribe to their competitor's email newsletter! The goal isn't to steal your rivals' ideas, but to acquire inspiration and stay on top of the industry. If you're having a holiday deal for a cut price off your services while another HVAC company in your region is giving discounts, customers will flock to your rival.
Conclusion
Because the Internet is always evolving, you must do all possible to stand out. There are various marketing tactics accessible to you, and deciding what to do might be difficult. Make use of these suggestions to keep your website and business ahead of the competition.