Do you have concerns about your Peel? We'll go over every peeling method in this post. in order for you to be able to address the issue with your peeling once you have finished reading this article.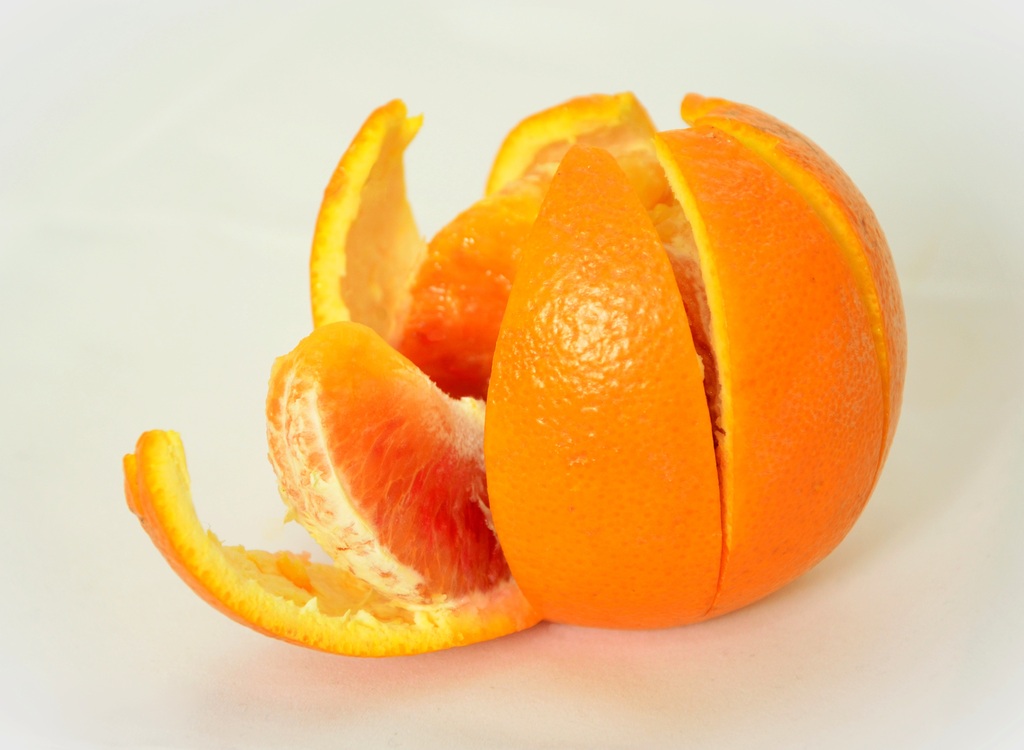 Learning how to peel an orange isn't difficult. It just takes a little instruction and practice if you have an orange in an orange season. In fact, by the time you finish reading this article, you will be well-versed in several of the most popular orange peeling ways!
Methods of Orange Peel
1. The Use of Hands
Pick a Quality Orange
Your chosen orange's ripeness level will significantly impact how simple it is to peel. Look for an orange with a vivid orange hue that is quite hard and weighty for its size when choosing the ideal orange for peeling.
Older fruit with wrinkly or broken skin should be avoided since it will be more difficult to peel and will not taste as delicious.
It may be difficult to peel oranges that are still somewhat green or pale orange because the skin will be firmly attached to the fruit.
The Orange is Rolled
Although rolling the orange before peeling is optional, some believe it makes the fruit juicer and helps release the skin. Set an open-palmed hand on top of the orange and place it on a flat surface to roll it. For 10 to 15 seconds, roll the orange while applying mild pressure. Be careful not to push too hard, or you can squash your orange!
Puncture the Orange's Skin with Your Thumbnail While Holding it in One Hand
Instead of cutting along the edges of the orange, try to create the puncture close to the top or bottom. It is due to the orange's side skin, which is thinner and sticks to the fruit more firmly. The orange's thicker, looser skin at the top will peel off more readily and is less likely to break.
Some recommend making the initial puncture with your four fingernails. However, this is difficult and exposes too much flesh under your fingernails.
Letting your thumb's nail grow slightly longer than the rest of your fingernails could also be beneficial.
Work the Peel with Your Thumb
Work your thumb's nail under it to get a firm grasp on the orange peel. Avoid poking the fruit, as the juice may leak and adhere to your hands.
To prevent piercing the skin, hold the orange over a plate. If you do this after peeling, cleaning will be simpler. A piece of paper towel will also work as an alternative.
Gently Rip a Piece of Skin Off
The quicker the skin is removed, the larger the portion you take off. You may go around the edges or from top to bottom. You have the choice.
Tear Off Another Section, Beginning at The Edge of The Orange Peel
You might be able to peel an orange in one go once you are extremely good at it. To do this, rip the orange's skin off in a circle around its perimeter, leaving you with the fruit in one hand and the twisted, snake-like peel in the other. Continue until every last piece of peel has been taken off.
2. Using a Knife
Grab a Sharp Knife
Just as long as it has a sharp tip, the knife doesn't have to be very large. Insert the knife's pointed tip into the skin at the top of the orange. Start by cutting across the orange's top. Then, as you proceed, rotate the orange in your palm while using the knife to remove the peel in a single motion.
Continue Peeling the Orange in a Circular Motion
While you peel in a steady, controlled manner with a little sawing action, the knife should be pointed in your direction. One continuous, spiraling piece, approximately 1 inch (2.5 cm) broad, should fall off the orange. You'll get better with practice, so don't worry if some of the fruit comes away with skin.
Alternatively, you can use the knife to make a vertical slice in the orange skin.
Once you've finished, using your fingers to peel the orange will be simple. Be careful not to cut the fruit too deeply; orange juice will go everywhere in orange season!
3. Using a Spoon
Roll the Orange – To help release the skin, roll the orange in your open hand for about ten seconds on a flat surface.
Make a Slash- Make a 1 to 1 1/2-inch (2.5 to 3.8 cm) vertical cut down the orange's side using a sharp knife. Avoid cutting the fruit and make an effort to penetrate the skin completely.
Put the Spoon In – You cut a hole with a knife and slide a dessert spoon under the orange peel. Move the spoon around the fruit to loosen and rip off the skin.
How do You Cut an Orange Fancy?
How to chop an orange, in detail
Step 1 is to trim the ends. The orange should have both ends cut off using a big chef's knife.
Cut the peel off in step two. It is what?
Step 3: Remove a section (inside the membrane lines).
Repeat step 4 for each segment.
What To Do With Orange Peels
Don't discard your orange peels once you've peeled the fruit. They may be used in so many different ways. Here are a few concepts:
Orange Peels in Candy
Most people find the prospect of biting into an orange peel repulsive, but when the peel is coated in sugar, it tastes delicious. Preparing candied orange peels is simple, and they make a tasty dessert.
How to Eat It?
Although you may bite into an orange's skin, consuming smaller portions at once is recommended to avoid stomach discomfort. Orange peels may be sliced into thin strips and added to salads or smoothies using a knife or vegetable peeler. They can be candied or used to make orange marmalade for a sweeter variation.
Finally, adding orange zest to yogurt, oats, muffins, salad dressings, or marinades is a simple method to ingest lesser amounts of orange peel. But if you do try them, don't forget to wash the fruit beforehand.
Frequently Asked Question
How do You Make an Orange Easy to Peel?
Insert the handle of your spoon between the peel and the fruit after cutting the orange's center with your knife. Be careful not to pierce any of the citrus segments. Once you start to feel the peel releasing, continue working your way around the orange.
Why are Peeling Oranges so Hard?
Scientists think the peel serves some form of sticky defense against predators, even though its exact evolutionary function is unclear. It is one hell of a defense system, as anyone who has ever been blasted in the eye with orange juice will attest.
How do You Soften Orange Peels?
Orange peels should be gathered and boiled in boiling water in a pot. When the water is boiling, turn off the heat and discard it. Repeat at least three times, each time using fresh water. This procedure softens the orange peel and takes away its bitter flavor.