People generally understand the importance of maintaining their home's roof, but if they own a barn, it is easy to overlook the roof.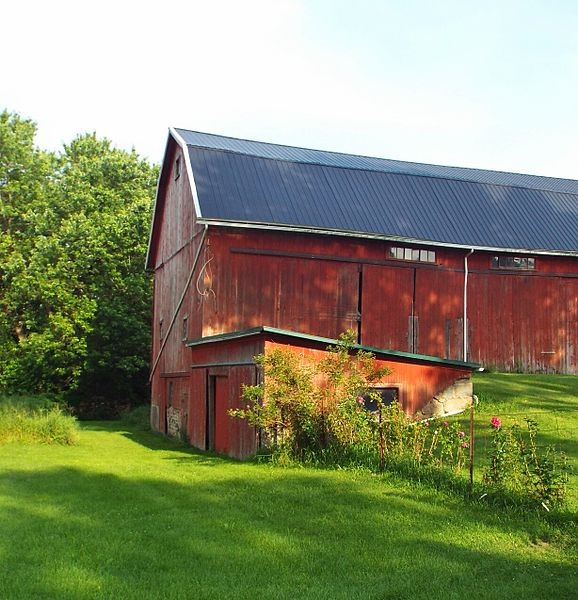 Although you might not realize it off the bat, livestock also needs a good roof over their heads if they are indoors.
Keep your barn's roof in good condition by following some of the same maintenance tips you use for your home's roof.
You can also seek for professional help and find some experts like these barn roof painters in Ontario.
Typical Barn Roof Problems
Certain problems can arise depending on the type of roof your barn has.
Wood Shingles
Many older barns still have wood shingles beneath other roofing materials. Water is the number one enemy of wood shingles, and they require proper ventilation to stay dry. Once damaged, wooden shingled roofs will need to be replaced.
Metal Roofing
Metal roofing is often used on barns because it is highly durable. Metal roofs are most susceptible to rust and wind damage.
You should inspect your roof for loose nails if metal sheets are lifted by the wind.
Asphalt Roofing
Asphalt is the least durable option, but it can be used for DIY repairs, such as replacing loose or broken shingles and repairing small holes. Inspection is still crucial, however.
Finding and fixing small problems right away is still a good idea. When this type of roof leaks, you should replace the entire structure.
---
Read Also:
---
Slate Roofs
In contrast to having to replace the roof every few years, this type of roofing can last a long time since you can do your own repairs.
No matter the type of roof you have, you can keep your barn roof in good condition with some simple summer maintenance.
Be on the Lookout for Leaks
Keep an eye out for leaks in your barn roof. The easiest way to do this is to walk through your barn during a rainstorm, or during a sunny day, looking for pinholes of light.
A pair of binoculars can help you find trouble spots on the roof if you're hesitant to get up on the roof yourself.
Look closely at areas that are most likely to fail, such as eaves and ridges, or valleys in the roof. Also, examine the roof for signs of pest problems like algae.
As the seasons change, inspect your barn roof three times a year, just as you would for the roof on your home.
Be Sure to Check Fasteners
On metal roofing, look for loose fasteners, such as nails or screws. Check for loose fasteners and tighten or replace them if necessary.
When replacing fasteners, keep in mind that you should only use them on the raised areas of the roof. In the lower areas of the roof, fasteners can rust and pool water.
Remove Debris from the Roof
During spring storms and rains, strong winds can blow debris onto your barn roof. Summer is the ideal time to inspect and clean your roof.
You can find it quite efficient to clean a roof if a power washer is available to you. Inspection is much easier if there are no hidden problems.
Moss can also grow from wet leaves and other debris. Moss grows on roofs that are shaded and damp, so more sunlight reaching the roof reduces moss growth.
Trimming Tree Branches Near the Roof
If limbs grow close enough to hang over the roof, they can cause problems. Small animals may use the limbs to get access to the barn and roof, or sap may drip from the tree, depending on the type. It's best to trim overhanging limbs in summer so that leaves don't fall on the roof in the fall.
The combination of summer storms and overhanging limbs is a threat to your roof. The limb of a tree could fall through the barn and into the roof during a strong storm.
The constant rubbing of trees against barn roofs causes dents and loose fasteners. This is why you should trim overgrown trees around your barn. Keeping a roof in good condition is crucial for a structure's defense against the elements.
Checking for problems and performing a few tasks can help prevent future damage. Following these will not only ensure you have a reliable roof for your barn but also save your wallet in the future.