Can you imagine a house without a kitchen? Of course, you can't!
The kitchen is like the engine room of your house where you have to spend at least three hours a day to cook your meal.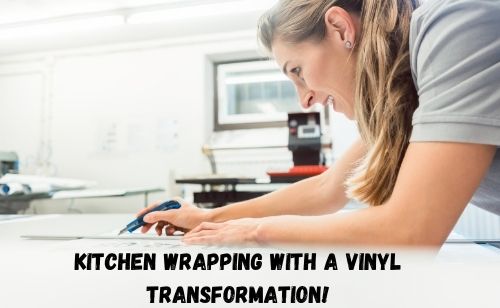 A kitchen should be clean, flexible, and hygienic. However, we always forget to think about its look and appearance. Though the denial of "The first appearance is the last appearance" is acceptable.
However, nowadays, people are more likely to transform their kitchen into a beautiful, cozy place where they can use it not only for cooking but also spend some quality time.
Therefore, those old school paints and tiles have been replaced by different types of kitchen wraps, which make them durable, budget-friendly, and elegant.
What is Kitchen Wrapping?
Kitchen wrapping is a process where the kitchen surfaces are covered by different types of stickers. It will help you to clean the kitchen faster also it is an easy way to redecorate your kitchen whenever you want.
Previously people used different types of plastic paint or tiles to decorate their kitchen. The main problems were plastic paint can be faded away easily on either hand changing tiles over and over again is time-consuming as well as costly.
Kitchen wrapping is a very popular and innovative process of decorating a kitchen that is easy to apply and can be used for a long time.
You can apply it as a sticker with a shotgun and proper tools. Usually, these stickers are made of different fibers.
Among them, vinyl is the most effective and budget-friendly. Choosing vinyl for wrapping is also a practical choice because of its durability and versatility.
Kitchen Wrapping by Vinyl
There was a time when people use vinyl to customize their cars only. At present, people are starting to use it to upgrade their kitchens too.
Vinyl, known as polyvinyl chloride or PVC, is the most versatile plastic which is used for wallpaper, covering a different surface or wrapping auto body parts.
We can use vinyl to cover up our kitchen surfaces such as doors, cabinets, walls, etc. This will not only create a different look but also save up to 80% as you don't have to replace everything from your kitchen.
Why do We Use Vinyl?
Obviously, you may find a hundred types of material that you can use for wrapping your kitchen. However, these materials haven't lasted like vinyl as it is another form of PVC.
There are other factors that influence choosing vinyl over any other material. And these are:
Low Cost:
Vinyl is the budget-friendly material among all that you will find in the market. It is used worldwide in different forms.
It is a versatile plastic that can be used easily, formed into different structures and shapes, and removed easily whenever you want.
Appearance:
The appearance of vinyl is quite elegant and classy. It is a perfect fit for everything, and also it comes with different textures.
You can have matte, glossy, wooden, carbon fiber, or even plastic texture. These texture ranges are gaming their popularity day by day.
Easy to Use:
Time is like property, and it's valuable. Everyone is utilizing their time as much as they can. No one would like to spend 7-10 days on a kitchen renovation right now.
Renovating a full kitchen with vinyl will take approximately 3days, which is a time saver and also an energy locker.
Durability:
Those who are working in the home decor sector will choose vinyl over any other material to refurbish the kitchen.
First of all, there is no issue with peeling, flakiness, discoloration about vinyl. Usually, paint can be discolored, peeled, and flaked after a couple of years.
On the other hand, the vinyl wrapper is so tough that it can be effected only by scratches. And if any area is scratched, you can easily remove and replace it with a new one.
Previously people used plastic coating alongside the sink to prevent discoloration. But, using plastic coating can lead to peeling and bubbling.
Also, it can be damaged by heat and moisture. On the other hand, vinyl can be a good choice if you are on a budget and also looking for an elegant touch.
Costing
Using vinyl for kitchen wrapping can save you up to 80% of your money because once you have finished with the final product, you don't have to renovate it for up to many years. Also, it is not as costly as paints, where you have to spend a lot of money on the chemicals.
Usually, installing vinyl can take up to 3 days, depending on the size of the surface. It will take around 150-300 $ per day for the installation.
Conclusion
Working with vinyl is a smart choice as it can minimize the risk of damage such as bubbling, peeling, and flaking.
Also, it's easy to apply, and you can start cooking right after a day of the installation as there is no annoying paint smell. To minimize the other risk, we recommend keeping the surface dry and using less moisture and heat.