Selling a house is a huge decision, and it's one that comes with its fair share of worries and concerns. But what if your home has foundation problems? Does that mean your chances of selling your property have gone out the window? Not necessarily.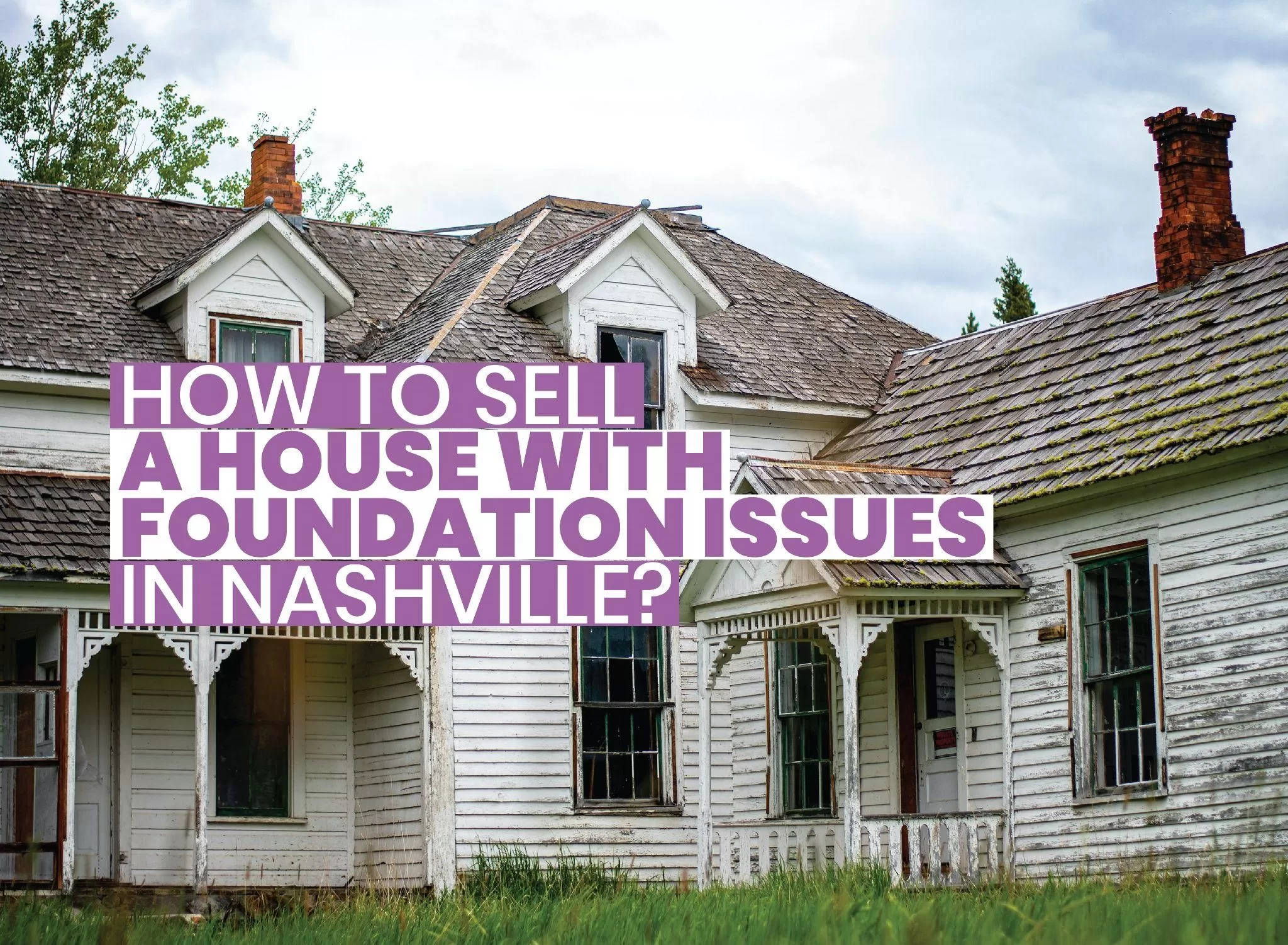 If you're a Nashville homeowner struggling with foundation issues, you might be wondering what your options are. Do you need to disclose the problem to potential buyers? Should you fix the issue before listing your house on the market? And what if you don't have the funds to cover expensive repairs?
Fortunately, there's a solution that can take away all your worries and concerns. Selling your house to a local home-buying company in Nashville could be the perfect way to unload your property without having to deal with foundation issues.
What Are the Signs of Faulty Foundation?
Here are some common signs of a faulty foundation:
Cracks in the walls, floors, or foundation itself
Uneven or sloping floors
Doors and windows that stick or don't close properly
Gaps between the walls and ceiling or floors
Water damage or mold in the basement or crawlspace
Chimney leaning or separating from the house
Sagging or uneven roofline
Cracks in exterior brickwork or stucco
Shifting or settling of the house on one side
What Problems Can Foundation Issues Cause?
Foundation issues can make it more difficult to sell your home for several reasons:
Foundation problems can pose safety risks to occupants of the home.
Repairs can be costly and time-consuming.
Foundation issues can lower the value of a home.
Lenders may be hesitant to provide financing for a home with foundation issues.
Do You Have to Disclose Foundation Problems?
Yes, as a seller, you are legally obligated to disclose any known foundation problems to potential buyers. In Nashville and many other states, sellers must provide a property condition disclosure statement to buyers that outline any known defects or issues with the property.
This includes foundation problems, such as cracks, settling, or other issues that could impact the home's structural integrity.
It is essential to disclose foundation problems can lead to avoiding legal issues and financial repercussions for the seller. Buyers who discover undisclosed foundation problems after the sale may take legal action against the seller to recover damages.
---
Read Also:
---
How to Sell a House With Foundation Issues in Nashville?
When we talk about selling a property with foundation issues, we always have many questions, and we will go for search strategies to help us in that situation so we are in the right place. Here we enlist some helpful strategies to sell a house with foundation issues in Nashville:
Getting a professional inspection
Selling Your House to Home Buyers
Selling with a Realtor
Selling for Sale by Owner
Selling to an iBuyer
Make Repairs if Possible
Identify Repair Cost
Pricing the House Right
1. Getting a Professional Inspection
A professional inspection is essential in selling a house with foundation issues. A professional assessment is conducted by a licensed structural engineer or an experienced foundation repair contractor who can unbiasedly assess the foundation's condition.
This will help identify the specific issues with the foundation and provide an estimate of the repair costs. The report from the inspection will help you decide on the best course of action and inform potential buyers about the foundation issues upfront. Having a professional inspection report can be a valuable marketing tool.
2. Sell Your House to Home Buyers
Selling your house to a home buyer may be the ideal option when dealing with foundation issues. With this approach, you can sell your home quickly and without the hassle of trying to sell a house with foundation problems in Nashville.
You won't have to deal with realtor commissions, service fees, or closing costs, making it a more cost-effective option. You can sell your home within days and receive a cash offer within a few hours, providing a stress-free and convenient selling experience.
3. Selling with Realtor
Working with a real estate agent who specializes in selling homes with foundation issues can be a helpful option. An experienced agent can provide guidance on how to price the home appropriately and market it effectively to attract potential buyers.
They can also negotiate with buyers on your behalf and help navigate any legal issues that may arise during the selling process.
4. Selling For Sale By Owner (FSBO)
If you have experience in real estate transactions, selling your house for sale by owner (FSBO) can be a feasible option when dealing with foundation issues.
It's essential to remember that selling a property with foundation issues can be challenging, and disclosing these issues upfront is essential.
Not disclosing foundation problems can lead to legal issues and damage your reputation as a seller. It's also important to be prepared to negotiate with potential buyers who may be hesitant to take on the cost of repairs.
5. Selling to an iBuyer
Selling your house to an iBuyer has become an increasingly popular option for those who prefer a more straightforward and efficient home-selling process.
With this approach, you only have to request an offer online, and a company will purchase your home to resell it.
Another thing to consider is the service fees and closing costs associated with selling to an iBuyer. These fees can add up and may make the total cost of selling to an iBuyer more expensive than selling with a realtor.
It's important to ensure that you fully understand the terms and conditions of the sale, including any requirements for repairs or deductions for repair costs, before making a final decision.
6. Make Repairs if Possible
Making any necessary repairs before selling a house with foundation issues is advisable. This can increase the property's value and make it more appealing to potential buyers.
However, it's essential to weigh the costs of repairs against the potential benefits to ensure that you're making a financially sound decision.
7. Identify Repair Cost
Identifying the cost of repairs to the foundation issues is necessary before pricing the home. This can help you determine whether making the repairs is more feasible or adjusting the price accordingly.
8. Pricing the House Right
Pricing your house correctly is crucial when selling a home with foundation issues. It's essential to factor in the cost of repairs when determining the selling price.
A real estate agent with experience in selling homes with foundation issues can provide valuable guidance in determining the right price.
FAQs
How much does it cost to repair foundation issues in Nashville?
The cost to repair foundation issues in Nashville can vary depending on the severity of the issue, the size of the home, and the type of foundation. It is recommended to get multiple quotes from licensed contractors before making a decision.
How long does it take to sell a Nashville home with foundation issues?
The time it takes to sell a Nashville home with foundation issues can vary depending on market conditions, the extent of the foundation issues, and the asking price.
Wind Up
When it comes to selling a house with a cracked foundation, it's easy to feel overwhelmed and unsure of what to do next. But fear not, because you have options! From repairing the foundation to selling your home as-is to a home-buying company, the choice is yours.
If you want to attract more buyers and increase your home's value, repairing the foundation is worth considering. However, if you're ready to move on and want to avoid investing any more money into the property, selling as-is to a home-buying company like Nashville Development is a great alternative.
So whether you choose to repair or sell as-is, staying focused on your timeline and goals is key. And with the help of a reputable home-buying company, you can sell your home quickly and efficiently without any added stress or hassle.
Reference:
Emily Glover. "9 Warning Signs Of Foundation Problems." Forbes, 11 Jan 2023, https://www.forbes.com/home-improvement/foundation/signs-of-house-foundation-problems/
AMY FONTINELLE. "What Is a Home Inspection Contingency and Why Is It Important?" Investopedia, 12 August 2022, https://www.investopedia.com/articles/mortgages-real-estate/08/home-inspection.asp#:~:text=Your%20first%20clue%20that%20a,penalty%2C%20within%20a%20specific%20timeframe