According to www.msn.com, almost 80% of the total Americans are known to have debt.
Taking a loan from financial institutions like banks is not an extremely wise option especially when you are considering decorating your home. There is no doubt about the fact that decorating your house is a great idea but you should also keep your expenses on the mind. You should not despair if the budget that you have is not exactly as expensive as the dreams that you have.
The decorating magazines, as well as websites, are known to have makeovers that are going to cost you a huge amount of money. However, it is not a difficult task to decorate your home without breaking the bank.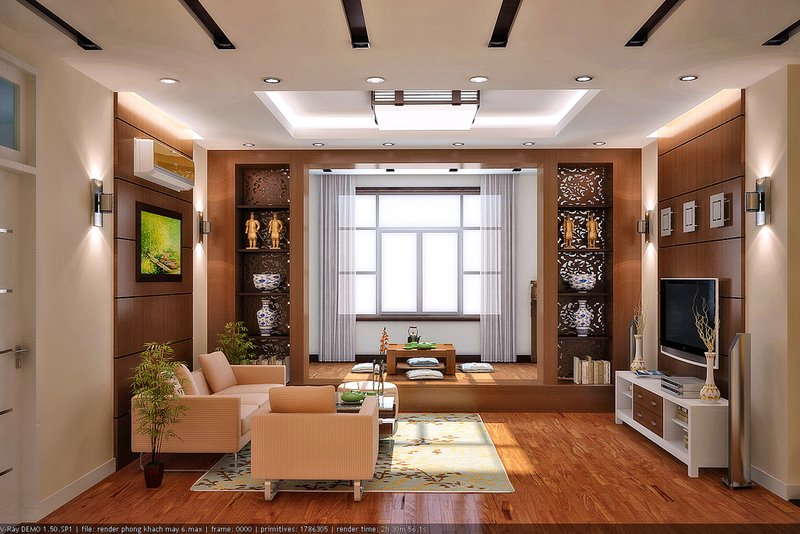 Decorating Your Home Within a Budget
Given below is a list of the ways in which you can decorate your rooms within a proper budget.
---
Read Also:
---
Start With the Paint
An easy and inexpensive way of giving an immediate and great boost to all your rooms is by painting it. Painting is undoubtedly one of the easiest do-it-yourself projects and you can easily prepare and paint your rooms over any weekend. When you are choosing a color, you have to use paint chips for narrowing down the choices.
Ensure that you are carrying the paint chips to your home and make sure that you are taping them up on the walls of the rooms. Try to observe the colors at various times throughout the entire day and in lighting conditions that are completely different. You might get surprised by how even the basic white color can change with the light of the day.
Whittle your choice down and choose the colors that you think are perfect for the rooms. Purchase sample size cans for all the paint that you have selected and painted a huge section of the walls of the rooms.
As soon as you are sure of the color, purchase enough paint so that you can complete the entire project. You need to keep in mind that purchasing professional products is also not necessary. Good quality rollers and paint brushes are known to make huge differences when your work is completed.
Do Not Forget Your Floors
If you see that your bedroom or drawing room has carpets that are torn, stained, and old, the wood has damages, or the floor laminate is covered with scratches and scuffs, it is high time that you consider replacing your flooring.
If the home is built on the concrete slabs, you have to remove the existing flooring and then paint as well as feel the concrete that is lying underneath it. You will be able to get the best possible results with the help of the faux techniques of painting.
If you feel that concrete flooring is not ideal for you, you can also opt for linoleum or vinyl flooring. Vinyl flooring is available in a greater range of patterns and colors and it is soft and warm in comparison to concrete. You will also come across the peel and stick option, which is going to make it extremely easy to handle the project.
You can also opt for a wood lamination. Laminates are known to come in numerous designs but they can be extremely expensive, and hence it is best that you shop around a little.
Wood or carpet is undoubtedly one of the most loved as well as popular choices for flooring your rooms. If you are someone who loves wood or carpet, you have to shop around for the low prices. You also have to hire someone for installing them.
Check the local stores as well as home improvement centers for the clearance materials, special discounts, or sales. If you can find the perfect deals that fit your budget, you should be prepared to grab it right away. If you have taken a loan, and you are finding it difficult to clear it, you can opt for the debt relief programs.
Choosing the Furniture for Your Rooms
Purchasing furniture within a budget is not something extremely difficult. However, it definitely requires a certain legwork and time. You can get the best deals on the furniture of your choice from garage or yard sales, thrift stores, estate sales, consignment stores that are known to specialize particularly in furniture, estate sales, furniture stores going out of business, or discount stores.
If you are purchasing used furniture, it is your duty to inspect any evidence of damages, bed bugs, and excessive wear, before you bring these items to your home. You should never purchase used bedding or mattress. Also, keep in mind that the furniture in your bedroom doesn't need to match with each other. Purchasing furniture, which is complimentary, is the best idea as opposed to purchasing matching furniture.
Finishing Touches
The decorating accent that you have is known to show off your personality and style. Therefore, you should be extremely careful when you are choosing something. Only purchase the things that are appropriate for you and are going to add to the beauty of your home. Try to work with the existing style of your rooms.
Instead of opting for a room that is full of artwork or various other accessories, you should spread the purchases and take time to look for the things that you absolutely adore. You can use window treatments, lamps, ceiling lighting, bedding, and artwork, as the primary accents. You can locate these items at antique malls, craft fairs, thrift stores, garage sales, consignment stores, discount stores, etc.
Ensure that whatever you are purchasing is completely within your budget so that you do not have to take a loan and then spend time in clearing the debts. If you get second-hand furniture that is in the best possible condition, you should definitely go for it. It is useless to spend a huge amount of money on new furniture when it is not required at all.
Conclusion
It is not a wise decision to take loans only for decorating your home. There is no need to spend a huge amount of money on changing the decoration as small touches are also known to do great.