Calling all billiards enthusiasts in pursuit of the perfect billiard room – your quest ends here.
We've meticulously selected five outstanding billiard table room layouts, each offering diverse possibilities for fashioning an unforgettable gaming retreat. Whether you crave more seating or a touch of opulence, these layouts can suit your vision. So, pick up your pool cues, set the ambiance with music, and explore new horizons in billiard room design!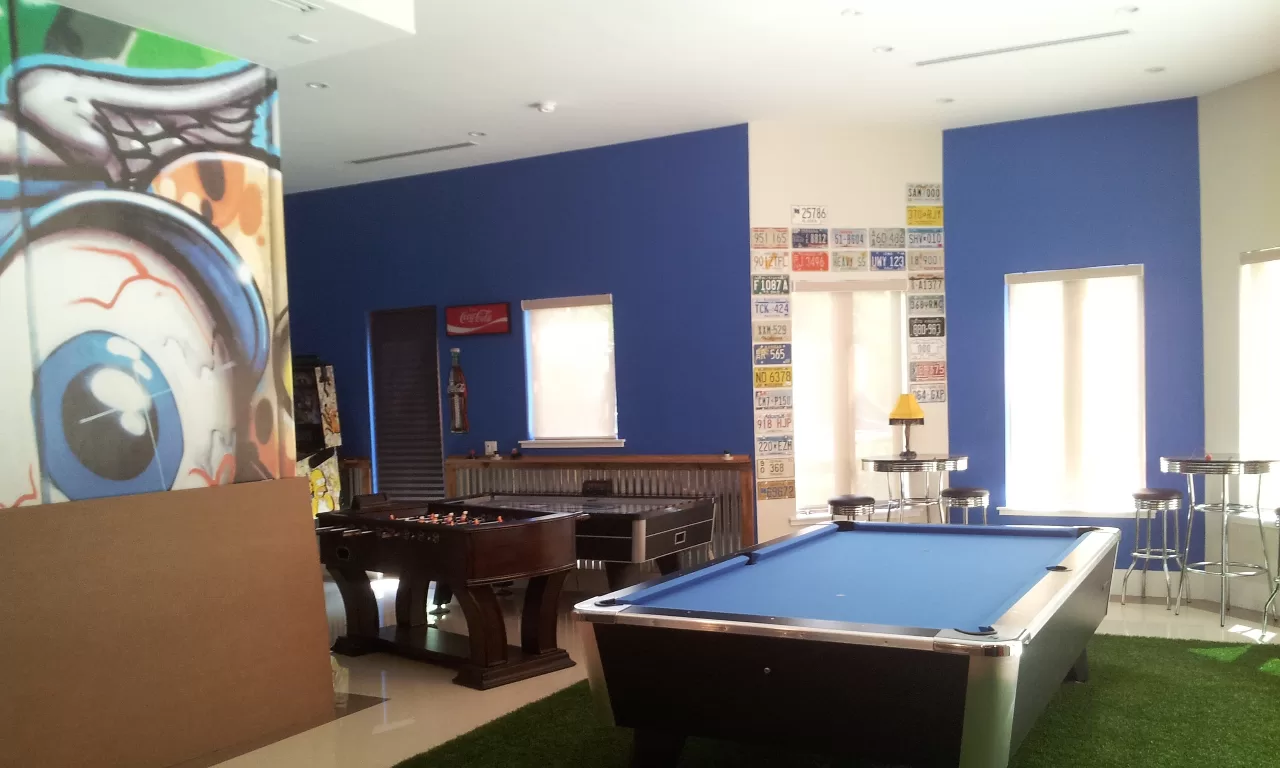 5 Unique Table Room Layout Ideas
1. The Classic Layout
The classic billiard room layout is a timeless design that is both practical and elegant. This layout features a billiard table in the center of the room with seating placed around the sides. This design works well for those who want to use their billiard table for formal occasions, such as dinner parties or gatherings with friends.
2. Game Room Layout
For those who want a more casual vibe, the game room layout is perfect. This layout features a pool table and other game tables, such as foosball or ping pong, all within the same space. This creates a fun and lively atmosphere and is perfect for entertaining guests.
---
Read Also:
---
3. Rustic Layout
If you prefer a more rustic look, you can incorporate elements like wood paneling or stone walls into your billiard room. This can create a cozy and inviting space that is perfect for relaxing with friends and family.
4. Modern Layout
If you're looking for a more contemporary look for your billiard room, the modern layout is the way to go. This design features sleek and simple lines with minimalistic furniture and accents. Materials like steel and glass are common in this type of design, creating a polished and modern aesthetic.
5. Multi-Purpose Layout
If you want your billiard room to be more than just a space for billiards, you can incorporate other activities into the room. For example, you can add a home theater or a bar area to your billiard room. This can create a versatile space that can be used for various activities.
6 Billiard Room Decor Ideas
1. Lighting
Billiard games require good lighting so players can see the balls and the table well. However, lighting can also be part of the decor. A chandelier, pendant lights, or even wall sconces can add a touch of elegance to your billiard room. You can choose modern or vintage lighting depending on your preferred style.
2. Color Scheme
Colors set the mood for any room, and a billiard room is no exception. Choose colors that complement the room's overall theme. For example, a dark green or navy blue color palette works well for a traditional or classic billiard room, while a bright and bolder color scheme works well for a modern game room.
3. Wall Decor
The walls of your billiard room present a great opportunity for decor. You can hang vintage billiard posters, framed photos, or artwork to create an exciting and vibrant space. Additionally, adding a wall clock or a dartboard adds an element of interest to the room.
4. Flooring
Flooring is a crucial part of any room's decor, and your billiard room is no exception. Choose a flooring option that balances style and function. Hardwood flooring is classic and timeless, while carpeted floors create a cozy atmosphere. You can even play with patterns and textures to create visual interest.
5. Furniture
Well-chosen furniture can make all the difference in a billiard room. Choose comfortable seating options, such as leather couches or chairs, to encourage game spectators to relax and watch the game. Additionally, a custom-made billiard table adds an element of grandeur to the room.
6. Accessories
Small accessories can make a big impact on the overall decor of a billiard room. For example, you can add cushions or throws on chairs and couches, use decorative storage bins for balls, add a place for your cue shaft, or add tabletops for drinks and snacks. Even adding some greenery by placing plants in a corner can liven up the space.
To wrap it up, these five remarkable billiard table room layouts exude distinct charm and character. Whether you lean toward a traditional or contemporary design or a fun or elegant setting, there's a layout that suits your needs.
The essential element is selecting the one that aligns with your personal style and preferences, allowing you to establish a welcoming and comfortable atmosphere for both yourself and your guests. Don't hesitate to experiment with various billiard room decorations to enhance your gaming space.